Recent Events
Rick, as suspected, got his ass handed to him at the Duke 1/2 IM in Durham, NC. Nevertheless, he still got a PR of 6:26.18. A run of 2:10 made the difference.
Rick drank too much wine the night before, and as is tradition at least once a season, did not make it to the Wilmington Triathlon.
Greg recently smoked a new PR of 2:53 at in international distance race. Like all of Grag's races, this was "wind-aided" if you get my drift.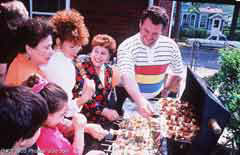 A picture of the whole NVTC group at our annual BBQ.